Edinburgh – May 2022
SVL and Amazon joinly hosted a networking event in their Development Centre in Edinburgh to bring together partners and customers and look at how everyone's Amazon Connect journey has disrupted the market-place and hugely enhanced customer experience.
Myself and Richard Abdy from SVL hosted the morning, which included guest speakers from Amazon, Omningage, Ascensos and Dialect Communications.
Richard opened the event with an overview of the Contact Centre landscape and outlined the "big move", with Gartner predicting 50% of all contact centres would be in the cloud by the end of 2022. He spoke about why SVL was attracted to the elevated agent and customer experience that Amazon Connect offers.
We were joined by AWS Solutions Architect Iain Truesdale, who took us through the speed of Innovation which Amazon Connect has brought to the market, with over 180 major feature launches in just 5 years.
Iain took a "deep-dive" into the feature and functionality of Amazon Connect, from pricing structure through to the enablement of agents with real-time recommendations.Some of the feature he outlined including Amazon Connect Voice ID, Customer Profiles, Contact Lens and Amazon Connect Wisdom were breathtaking. Find out more about Amazon Connect innovations here.
Next up we were delighted to be joined by Steven Magilton, Client Solutions Manager and Simon Leary, Digital Transformation Manager from Ascensos.The gents took us through a use case that Ascensos have completed with their client, a major fashion brand.
The key to their work was creating a new functionality based upon a pro-active, structured & customisable approach to supporting client needs & to deliver meaningful value creating change.
They harnessed the power & capability of Amazon R&D but with Ascensos knowledge of retail & customer service built in to create "Next Generation Voice: Ascensos Connect" Working with AWS, SVL and Omningage they created a model perfect for the outsource market, where clients are enabled to ask for services to be switched on and off as required combined with new capabilities around AI, NLP & automation becoming available every quarter.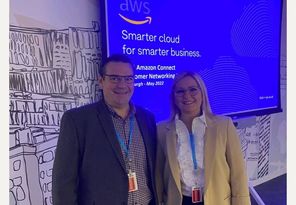 Truly ground-breaking in the industry.
Adding-value to Amazon Connect was a key theme for our next speakers, Daniel Soloman and Ahmad Nizami of OMNINGAGE. Their business was born out of their desire to create an easy-to-use, highly customisable user interface that combines the power of any AWS service with Omnichannel capabilities.
They built OMNINGAGE Connect to add value to the most highly configurable contact centre platform on the market by adding flexible and dynamic reporting and dashboarding, embedded productivity tools, third-party integrations and Analytics/Analysis across EVERY channel.
Harnessing the power of Amazon services and Amazon Connect, has allowed OMNINGAGE to develop an agent and supervisor experience that is world class, in record time.
To finish our event, and to pull together all the threads of the day, we welcomed the Chief Operating Officer of Dialect Communications, Laura Scott. She spoke about how Dialect worked with SVL/Omningage and AWS to create a new bespoke customer experience solution that, crucially, supported end users with multilingual capacity.
Dialect has quickly developed a huge reputation as a niche CX service provider to new and growing Fintech businesses around the world.
From an initial list of requirements, the partners pulled together a 100% cloud-based omnichannel solution (Amazon Connect) for Dialect, coupled with a state-of-the-art web based agent portal (Omningage Connect) which brought all interactions, via any channel, into one centralised solution in less than 5 months.
The day ended with a networking lunch and every attendee spoke positively about what they had learned from the event and how they could use this knowledge going forward.
Thanks to everyone who spoke and came along. The day finished with a visit to the rooftop of Amazon Development Centre with stunning views over Edinburgh Castle.
We look forward to our next event.