Our Director Peter Gough, looks into his crystal ball and predicts the future for the contact centre industry and talks about how business is developing for SVL in 2019.
It's not the sexiest number, and it will be overshadowed by its more symmetrically pleasing successor, 2020 (how many businesses had a 2020 vision!).
However, I believe 2019 will be a big year in every sense for both our industry and our business.
My predictions for 2019 are:
2019 – the Year of the customer
Contact Centres, and the designers of their software, will increasingly seek the wisdom of those using their service to develop products. Improved customer journeys which are data-driven, robustly tested and skillfully implemented will increasingly influence all interactions.
Customer research will influence a planner's choice of software, and ultimately vendor, with a rise in demand for even quicker developments in software to keep place with a contact centre's desire to achieve 100% customer satisfaction.
2019 – Speech Analytics will no longer be a nice "add-on"
What was once seen as a cool treat or "bolt-on" to a voice recording package, Speech Analytics has steadily become a powerful and influential tool in the armoury of the contact centre manager. As my colleague Rohan put in his recent blog, this powerful engine can be equally as effective in the SME as for the global multi-national.
As well as listening into the agent's client conversation, it will measure everything from the speed the agent is talking at, through to levels of stress in the conversation and speaking tone. The ablilty to improve customer interactions and support staff development will be vital in this competitive environment.
2019 – we lose our fear of "The Cloud"
Contact Centres have been relatively slow to adopt cloud technology, to date, but I believe this is changing. Next year we'll continue to see contact centres move to the cloud, even if only partially, to incorporate elements of a cloud-hosted solution.
Combining the benefits of a cloud-based solution, (ease of use, resilience, value-for-money and flexibility) with compliance pressures such as PCI DSS regulations, and we will see more and more organisations migrate to the cloud in 2019.
2019 – SME's and Third sector activity will grow.
The demands are the same, regardless of size or sector. The law is stringent, particularly in the area of PCI Compliance. Over the last 12 months we have seen the introduction of GDPR, adding pressure onto existing requirements around the storage of legacy data.
Aside from all this, every organisation needs to record calls for quality assurance purposes, to review customer complaints and help with the training of staff.
SME and Third Sector businesses are responding to these challenges and recognising that costs are not punitive. We will see smaller organisations increase their share of our market.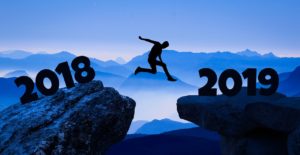 But what about SVL in 2019?
Following the difficult and challenging market conditions that technology companies faced in 2016 and 2017, I am delighted to report that this year the situation has shown real improvement.  Businesses' across the spectrum were consolidating left, right and centre and the phrase "we need to do more with less" was becoming all too common.
During 2018, the contact centre marketplace definitely turned a corner and companies started to re-invest in their technology and infrastructure, despite the continuing uncertainty surrounding Brexit.
SVL are forecasting stronger numbers in 2019 and, to me, it feels like a lot of the hard work is starting to pay off.  No-one is taking anything for granted as we improve our offerings and services, ensuring that our customers enjoy the best experience possible when making investments in technology.
Growing relationships
We have strengthened and grown our technology partnerships throughout 2018 and are doing some great work with the likes of NICE, Liquid Voice, Atmoso and our newest partner Teleopti.
In partnership with these companies, we feel that we have the most comprehensive solution portfolio in today's market, allowing us to cover for all requirements and eventualities.
We will continue this work in 2019, but additionally we are creating and growing strong partnerships with resellers who are keen to access our product portfolio with the safe knowledge that we are here to support them every step of the way.  These new partners can access the best technologies without having to sign to vendor programmes, which usually require heavy investment.
Our journey to the Cloud
Throughout 2019 and beyond, we will continue our journey to the cloud.  In partnership with Atmoso, we will present the most comprehensive cloud solution offering available in the UK.  A true cloud platform, with the best of technologies available to assist our customers on their "cloud journey", regardless of where they currently are with their plans.
There is definitely no "one size fits all" model here, so we will offer the flexibility to ensure we can cater for all.
Growing our people and knowledge
We plan to continue to add to our fantastic team and are always on the lookout for the right people to join us and help to enhance our offering.  We believe that our level of customer care and attention sets us apart.  Ensuring that we add the right kind of people, who share this ethos, to our team is the road to success.
As ever, the biggest challenge for companies like SVL is to stay ahead of the game when it comes to technological evolution.  We have to be both experts and leaders for our customers and partners – in 2019 there is plenty to go at.
We will increase our technical skills, product knowledge, and breadth of solutions such as Robotics, Employee Engagement, Speech Analytics as well as a whole raft of Real Time solutions.
The 2019 challenge – to open up access to these outstanding solutions and their benefits to new and existing clients across the UK, and always at a realistic cost.
Exciting times ahead, see you all on the other side
Peter Gough is a Director of SVL Business Solutions