On the 4th December we hosted our second conference of 2019. For this event we were delighted to be supported by our partners, Teleopti (Calabrio) and we chose to focus again on the important and much talked about subject of Employee Engagement.
Our day kicked off with Richard Abdy, Head of our WFM practice, giving a short talk about Digital Transformation and re-imagining the workplace. He showed this video by Dave Chaplin of Microsoft which beautifully captured the challenges when trying to facilitate change in your organisation.
Our keynote speaker was Anne Gray, Customer Information Strategy Manager, at Scotrail.
Scotrail's Customer Information hub is now a state-of-the-art control room and their staff engagement levels are some of the highest in the organisation. However, this was not the case three years ago.
Anne took the conference on their journey to transform, not only the embedded structure and processes in Scotrail's Customer Information team, but how they also had to adapt to using new communications technologies, twinned with additional compliance (GDPR) and safety requirements.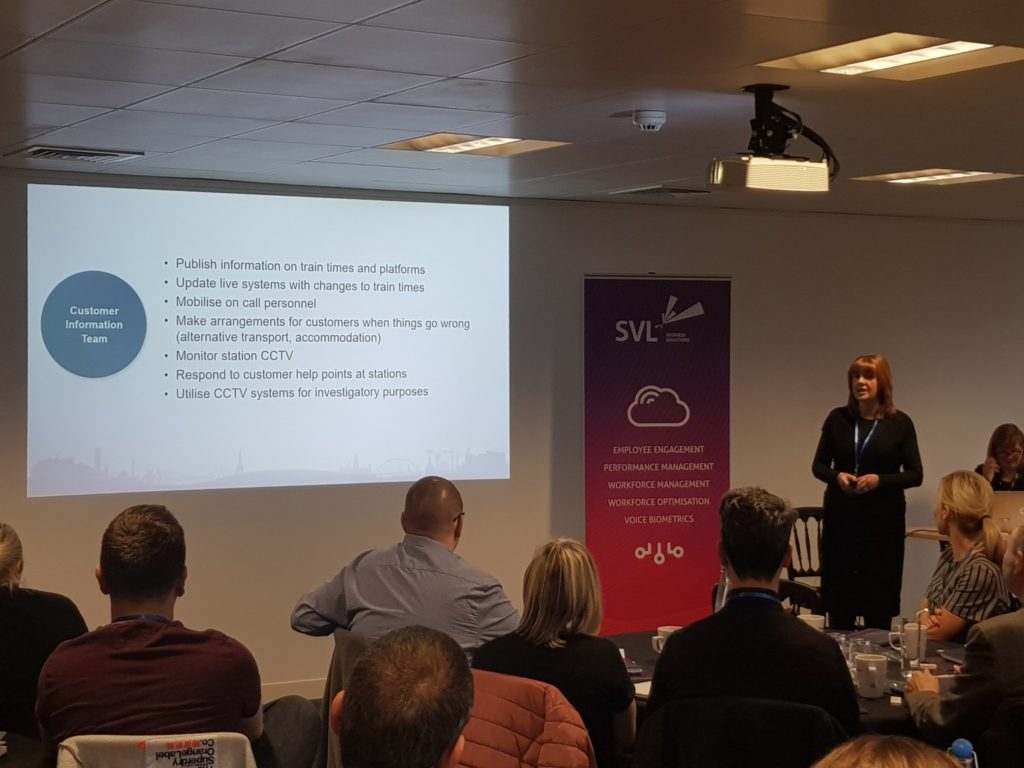 "The measurable success of Scotrail's EEM journey is based around staff engagement. Communicating with staff at every stage of the restructure, allaying fears and using peer training and technology 'champions' instilled a confidence that change would be beneficial"
Anne spoke at length about laying out the roadmap for change so staff could see what roles and challenges lay ahead and, also how they instilled confidence in their staff that forthcoming technological and physical changes would be beneficial to all.
We then spent an hour participating in an interactive workshop ran by Richard and myself. During the workshop, we were looking at flexible working scenarios across various sectors and discussing the challenges posed in each area, along with the benefits they could drive for both the organisation and the employee. This exercise really got conversations flowing and some great ideas and experiences were discussed.
Our next speaker was Nick Smith from our partners Teleopti (Calabrio), who gave an overview of their WFM solution and roadmap and then talked about the benefits for staff when they can self-schedule their time and how the adoption of gamification can improve Employee Engagement.
The final speakers were our Partners Steve Woosey and David Davies of Inspire CCP, who talked about 'How to Use Technology (the right way) to drive Engagement'
They talked about 'consistent themes of great engagement' and using a data driven strategy which focuses on delivering quality customer outcomes.
My summary only scratches the surface of what our speakers covered, but it really was a great event and feedback from our speakers and attendees was incredibly positive.
We will be hosting our next conference in Spring 2020, and in the meantime, please join our networking group on LinkedIn and help define the subjects for our next event and contact me if you would be interested in speaking.
Follow our company account on LinkedIn and Twitter for all the latest news about SVL and the Contact Centre Industry.