We are delighted to announce that SVL have been awarded NICE Gold Partner status for 2021 in recognition of our success working with our globally recognised partner.
John Byron, Head of Enterprise Channel – UK & I, said "NICE Enterprise are delighted to announce that our business partner, SVL, have been awarded Gold Partner Status for 2021. It's been a great year for both organisations and we thank SVL for their hard work and efforts in promoting and selling the NICE portfolio."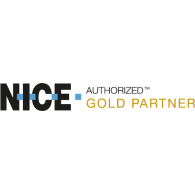 NICE and SVL have now been in partnership for over 20 years and SVL is a fully–certified service delivery partner offering solution design, installation, maintenance and training across a wide range of NICE products.
Peter Gough, Director at SVL, commented "It is a real achievement to be awarded Gold Partner status by NICE Enterprise. We had an outstanding year in trying circumstances in 2020 and we are enthusiastic about bringing a range of NICE products to the market in the coming 12 months."