There have been huge leaps in Contact Centre technology over the last few years, with CCAAS and cloud technologies now dominating the market and greatly enhancing the customer experience, and our ability to analyse the quality of client interactions and improve supervisor and agent engagement.
Looking ahead, what developments and new challenges can we look forward to in the coming years that will allow us to keep pace with rapidly accelerating customer expectations?
Immersive CX
We will see a further acceleration in the use of A.I. and Immersive technologies as part of our next phase in Contact Centre evolution. Virtual interactions are joining traditional voice, F2F and digital methods as a recognised front-line support channel.
The boundaries of A.I and Immersive technologies have few limits, but in the short-to-medium term, an increased emphasis on personalisation of customer experience and enhancement of existing digital channels will be top priority.
True omni-channel
In a recent survey of Contact Centres by our partners NICE, we can see that while omni-channel has been a hot-topic for years, adoption has not been as significant as first suspected.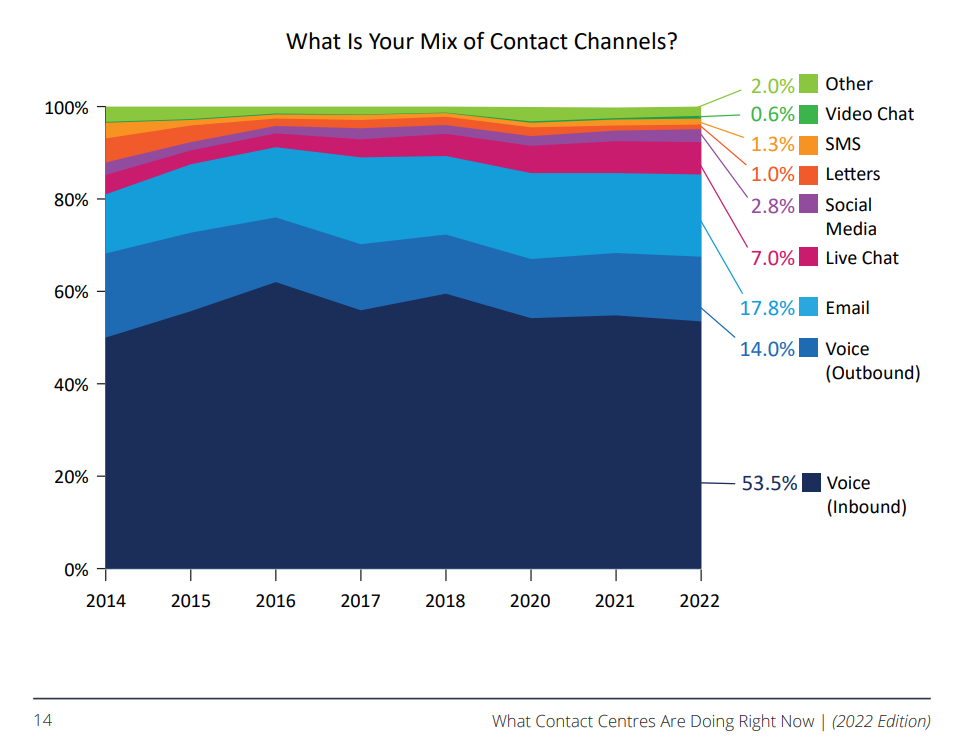 These statistics are surprising, in some cases. It is true that Contact Centres want to adopt omni-channel, but are still not embracing the opportunity. As we want to be more 'virtual', more digital, these technologies must become more joined up and if enhanced customer experience is the true goal, then we cannot dream of an immersive experience until we take the next steps to balance of channels.
Better support for staff
Recent research, carried out at the Call & Contact Centre Expo in London highlighted that agent recruitment and attrition will be amongst the top challenges in the coming year. Although the capabilities of Contact Centres to offer hybrid and home working are firmly in place (the research stated nearly 90% of industry professionals support remote working for contact centre employees), we must ask if the workforce management practices and software support remote working in the way they did in the office environment.
The incentives to use high quality WFO technology to enhance the agent experience are huge and, out with improved salary, the real lever that can improve retention and staff motivation.
And finally – in the push towards the future, don't forget your gold-mine of existing data.
As we look ahead to both next and future years, it is easy to dismiss what we have already got stored in our existing systems. The need to integrate past customer data is the foundation of all that will then be achieved, as a customer's records should be carried forward to ensure that they have that immersive experience we want to create.
Legal compliance and simple good customer service compels us to collate and integrate this data, but that can seem like a struggle when it's in old legacy systems. Technology can solve this problem in ways far easier and less time-consuming than you would suspect.
If any of these issues are of interest, please drop me a note on rnewton@svl.co.uk or meet me on LinkedIn
On behalf of myself and the whole team at SVL, can I wish you a peaceful holiday season and best wishes for 2023.